Grab 'n Go
Eat-in or take out, The Green Plate prepares items fresh for you daily that you can grab and enjoy without having to wait. 
Wraps, salads, and sweet treats, ready to "Grab N Go".
Build a Bowl
Choose one of our Signature Bowls, or pick your favorite ingredients from our Build a Bowl menu and we'll cook your custom meal. 
Create a new meal every day!
Heat 'n Eat
Frozen Take Home Meals. 
No shopping, prep work, or clean up. We offer a variety of individual or family size homemade meals. Ready to heat in your oven and ENJOY!!
Smoothies
Smoothies are made with whole food & 100% coconut water! Smoothie bowls are made with coconut milk!
Join our smoothie club and get your 6th smoothie FREE!
Eat What You Love, Love What You Eat!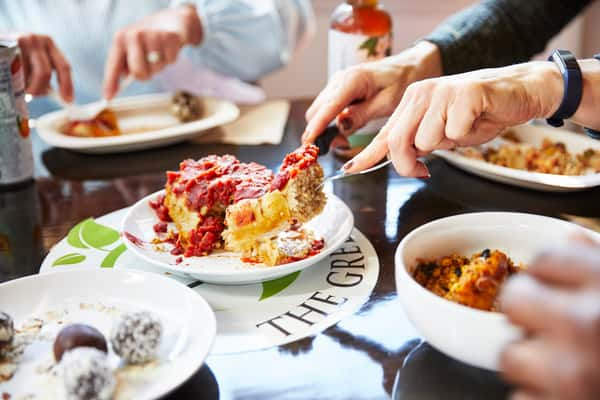 Food Love!
Located at 167 Church Street in Whitinsville, Massachusetts, The Green Plate Cafe is a place for you to experience the best in fresh, flavorful, healthy food. Our meals are prepared using whole food ingredients and are 100% Gluten Free. We also have delicious Vegan/Vegetarian options.

Come Hungry, Leave Happy!
SIGNATURE BOWLS
Mac Daddy Bowl
Jasmine Rice, Ground Turkey, Red Onion, Cheese. Topped with Shredded Romaine, Tomato, Pickles, Sesame Seeds. Drizzled with our homemade Thousand Island Sauce. 
(Vegan Option Available)
Taco Burrito Bowl
Jasmine Rice, Ground Turkey, Onion, Bell Pepper, Corn, Black Beans. Tossed in Lime Juice and our homemade Taco Seasoning. Topped with Tomato, Scallions, Avocado. (Vegan Option Available)
Steak & Cheese Bowl
Jasmine Rice, Shaved Steak, Onion, Bell Pepper, Mushroom, Cheese. Topped with Roasted Red Pepper, Pepperoncini. Drizzled with our Flavorful Sriracha Mayo.
(Vegan Option Available)
Loaded Stir Fry
Jasmine Rice, Onion, Bell Pepper, Mushrooms, Green Beans, Carrots. Tossed in Coconut Aminos. Topped with Tomato, Cucumber, Scallions. 
(Pick Your Protein)
Mediterranean Bowl
Jasmine Rice, Red Onion, Spinach. Tossed in our Lemon Ginger Sauce. Topped with Tomato, Cucumber, Kalamata Olive, Roasted Red Pepper, Feta, Pepperoncini
(Pick Your Protein) (Vegan Option Available)
Jack & The Beanstock
Jasmine Rice, Green Beans, Snap Peas, Peas, Brussels Sprouts. Tossed in our Homemade Pesto. Topped with Tomato, Cucumber, Sunflower Seeds. 
(Pick Your Protein)
Leave a Review
"So good! I keep the meat, but use vegan cheese. This lasts me 2-3 servings. Totally satisfies my craving for Mexican!! GF and DF!"