Grab 'n Go
Eat-in or take out, The Green Plate prepares items fresh for you daily that you can grab and enjoy without having to wait. 
Wraps, salads, and sweet treats, ready to "Grab N Go".
Build a Bowl
Choose your favorite ingredients from our Build a Bowl menu and we'll cook your custom meal. Weekly Bowl specials are also available.
Create a new meal every day!
Heat 'n Eat
Frozen Take Home Meals. 
No shopping, prep work, or clean up. Choose from a variety of individual meals or family size homemade frozen meals. Just bring them home, heat in your oven, and enjoy!
Smoothies
Smoothies are made with whole food & 100% coconut water! Smoothie bowls are made with 100% coconut milk!
Join our smoothie club. Buy 5 smoothies, get the 6th smoothie FREE!
Eat What You Love, Love What You Eat!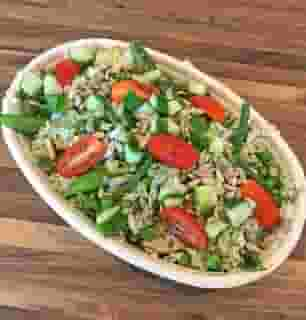 Food Love!
Located at 167 Church Street in Whitinsville, Massachusetts, The Green Plate Cafe is a place for you to experience the best in local fresh, healthy food. Our meals are prepared fresh every day and are 100% Gluten Free. We also have delicious Vegan/Vegetarian options.

Come Hungry, Leave Happy!
Every Week, Something Special!
Here is just a small sample of some of our special bowls! Please sign up to receive our weekly emails so you can see which one is our "Chef's Choice Bowl" of the week.